Posted by Ville Koskinen (February 24, 2023)
25 years of Matrix Science
Happy 25th birthday, Matrix Science! A lot has happened since John Cottrell and David Creasy founded the company in 1998, and proteomics today certainly looks very different to the bleeding edge of science back then. The success of any company could be attributed to various causes, but the simple fact is that we would not be here without our loyal customers. Thank you for your trust, custom, bug reports, ideas and feedback over the past quarter century.
Protein identification by database searching is an idea that predates Matrix Science by a few years. The company started in 1998 by licensing MOWSE from Imperial Cancer Research Fund, UK, and developing the software into Mascot Server. The product has been continuously improved since then, and it is difficult to find any trace of the original MOWSE source code in Mascot Server. Just looking at the database search help index shows the extent of new functionality introduced over the years.

The very first publicly available Mascot Server started running on this website in November 1998. It is a free service useful for small database searches, and it always runs the latest release of Mascot. The free service has completed over 27 million database searches since launch. Add to that all the searches made on in-house Mascot installations and there are a lot of Mascot search results in existence.
What is considered "small" has been upgraded several times over the years. When the free service started, the limit was 300 MS/MS spectra per search. At the time, it was difficult to conceive how anyone anyone would ever need more. The size of a typical proteomics experiment has grown hugely since then, and nowadays the free service limit is 20,000 MS/MS spectra. When you licence Mascot in-house, the only limit is hardware resources, and nobody bats an eye if you run a search with millions of queries against a database of millions of protein sequences.
Between 2000 and 2006, Mascot Server supported several processor architectures and operating systems in addition to Windows and Linux. How many readers still remember IBM AIX (PowerPC), Sun Solaris (SPARC), HP Tru64 Unix (Compaq Alpha) or SGI IRIX (MIPS)? When AMD introduced 64-bit x86 architecture in 2003 and multicore x86 processors became the norm a few years later, the other architectures gradually vanished from workstation and server markets. By version 2.2, Mascot Server concentrated on Windows and Linux support on x86 only.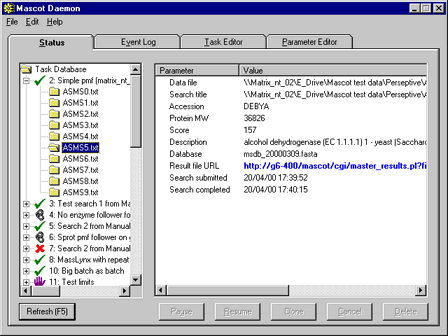 Mascot Server 1.5 release in 2000 included the first version of Mascot Daemon, which is the automation client bundled with Mascot Server. Mascot Parser, the software library providing an API to Mascot search results, had its initial release in 2002. Since then, major versions of Daemon and Parser track Mascot Server releases and are updated accordingly when new functionality is added. Parser continues to be able to read Mascot results files all the way back to version 1.0.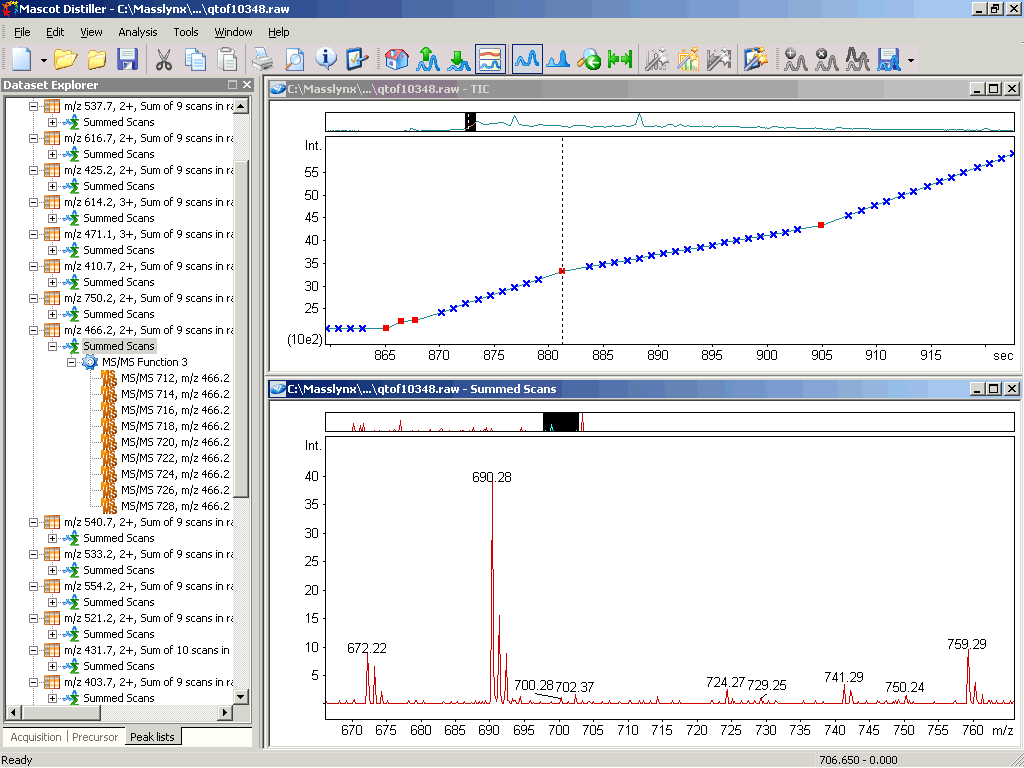 Mascot Distiller started as a GUI application for browsing and processing native (binary) mass spectrometry data files, and version 1.0 appeared in 2003. Over the years, Distiller has grown into a full solution for protein and peptide identification using Mascot Server or de novo sequencing, and quantitation using any isotopic, isobaric and label-free method. The integration with Mascot Daemon creates a fully automated workflow from raw data to quantified proteins.
In November 2003, Naoki Tanaka and Itaru Usami founded our Japanese subsidiary Matrix Science KK, so this year also marks MSKK's 20th anniversary. Congratulations! MSKK are the sole distributor of Matrix Science products in Japan and also provide training and support. For many years, we have also partnered with Thermo, Bruker, Waters, SCIEX and Shimadzu to offer Mascot Server as part of an instrument purchase.
Mascot Server, Daemon, Parser and Distiller are still going strong, but there were three other products that have since been discontinued. Mascot Wizard was a freeware tool for submitting peptide mass fingerprint searches, a kind of simplified version of Mascot Daemon. Mascot Wizard was discontinued in 2007 when PMF had been mostly superceded by MS/MS, and because the functionality overlapped substantially with Daemon.
Mascot Integra was an early attempt at proteomics data and sample management based around a LIMS package from LabVantage. Integra was discontinued in 2010, because most customers who had Mascot Server did not desire a full LIMS solution. Integra was succeeded by Mascot Insight. Both Integra and Insight were server applications, but Insight dropped most of the LIMS functionality and concentrated on data reporting and visualisation. Unfortunately, Insight did not gain traction either and was discontinued in 2015. Similar reporting and visualisation has subsequently been reimplemented in Mascot Distiller, and we intend to continue improving Distiller's Python-based reports.
What next for Mascot? Our aim is to provide reliable, high-performance data analysis solutions for routine use, suitable for any instrument. Data Independent Acquisition (DIA) has been gaining in popularity for a while, and we don't yet have an integrated solution to offer. Machine learning is the buzzword of the day, and although Mascot has shipped with Percolator since version 2.3, we are not currently taking advantage of the latest innovations in predicting retention time or MS/MS spectra of peptides. And the size of data sets and experiments continues to increase, which demands continuing attention on scalability, speed and ease of analysing very large data sets. There are plenty more product releases planned to address today's and tomorrow's proteomic challenges.
This blog started in 2012 and our newsletter has been running monthly since 2014. It's a great way to stay up to date with Mascot news and product releases. Subscribing is free and we never use your e-mail address for other purposes. Lastly, Matrix Science began hosting user meetings or breakfast meetings at the ASMS annual conference in 2001, which we have continued every year except during the pandemic. Hopefully we will see you at ASMS 2023!
Keywords: anniversary, history
One comment on "
25 years of Matrix Science

"
Leave a Reply