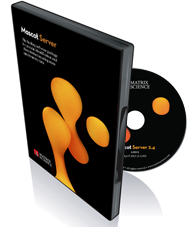 Welcome to the home of Mascot software, the benchmark for identification, characterisation and quantitation of proteins using mass spectrometry data. Here, you can learn more about the tools developed by Matrix Science to get the best out of your data, whatever your chosen instrument.
Mascot Distiller
Mascot Distiller offers a single, intuitive interface to native (binary) data files from Agilent, AB Sciex, Bruker, Shimadzu, Thermo and Waters. Raw data can be processed into high quality, de-isotoped peak lists. Optional toolboxes support Mascot search result review, de novo sequencing, batch processing and quantitation. If not registered, Mascot Distiller can still be used as a free project viewer, ideal for distributing search and quantitation results to colleagues.
Mascot Parser
Mascot Parser provides an API (Application Programmer Interface) to Mascot Server result files, making it easy to access search results from programs written in C++, Java, Python or Perl. Free for non-commercial use.