Mascot Wizard
Mascot Wizard is a simple desktop tool that provides a drag and drop interface for submitting peptide mass fingerprint searches to a Mascot server. Internally, Mascot Wizard uses the Mascot Distiller libraries to process raw data files into high quality peak lists.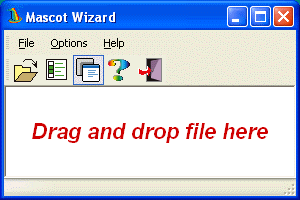 Although you can only process one file at a time, everything is fully automated. However, note that Mascot Wizard is only for peptide mass fingerprints. If your file contains MS/MS data, you have to use Mascot Distiller to process it.
Mascot Wizard is freeware. Full information concerning configuration and use is provided by the on-line help.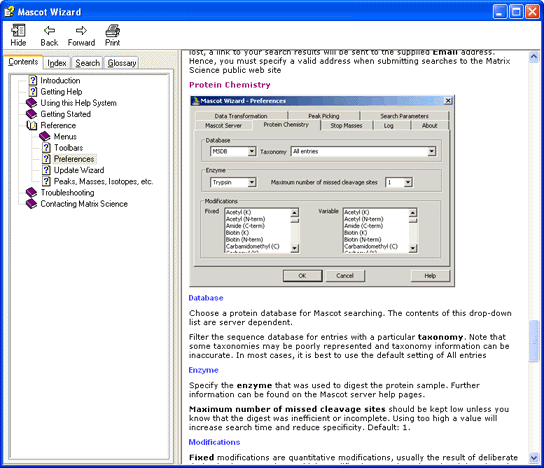 Supported File Formats
Agilent

DataAnalysis (yep) (LC/MS Trap)
Analyst (wiff) (LC/MS TOF)*
MassHunter (Q-TOF)

AB SCIEX

Analyst (QStar, QTrap)
Data Explorer (Voyager*, 4700, 4800)

Bruker

Data/Flex Analysis (yep) format (Esquire)
Data/Flex Analysis (baf) format (Apex, MicrOTOF)
XMASS/XTOF (Reflex, Biflex, etc.)

Shimadzu

Kompact (Axima)
LCMSSolution (LCMS-IT-TOF)*

Thermo

Xcalibur (LCQ, LTQ, Orbitrap)

Waters

MassLynx (QTof, M@ldi, TofSpec)

mzXML 2.0 and 2.1 (XML interchange format)
Text (ASCII mass and intensity values)
* For these formats, Mascot Distiller requires access to library files (DLL's or OCX's) supplied as part of the corresponding instrument data system.
In the case of text, the file can be either a peak list or profile data.
Configuration
All of the configuration options are in a single tabbed dialog. Here, for example, is the Mascot Server tab: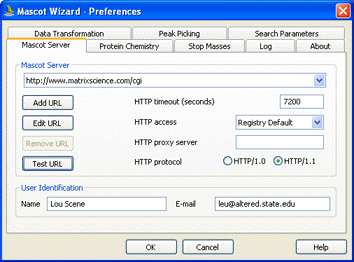 The Mascot server can be either the Matrix Science public web site or your own in-house server. Note that, if you use the public web site, you must enter a valid user name and email address.
System Requirements
Mascot Wizard requires Microsoft Windows 2000, Windows XP Professional, Windows Server 2003, or Windows Vista. It will not run under Windows 9x or Windows Me. Microsoft Internet Explorer must be version 5.0 or later. The current release will run under Windows NT 4.0 SP6a, but the following file formats cannot be opened: AB SCIEX Analyst, AB SCIEX Data Explorer, Waters MassLynx, mzXML.
For a few data file formats, Mascot Distiller makes use of library files (DLL's or OCX's) that are supplied as part of the corresponding instrument data system. These formats are marked with an asterisk in the list above.
All trade marks and service marks on this page are the properties of their respective owners and are hereby acknowledged.